Volunteer With Us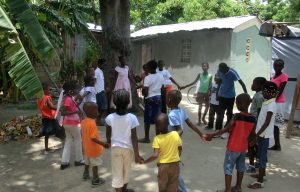 SHARE YOUR LIFE EXPERIENCE 
All of us have life experiences which we could share to enrich the life of others.
Come to Haiti and volunteer to teach English, French, Spanish, Bible Studies, Reading, Art, Life Skills.
You will be living in the same house as the president of the VFH during your stay. The house is modest, a typical middle class household in the country side.
ABOUT MY TRIP TO HAITI? 
Your trip to Haiti will be simple and impactful both.
You will arrange your trip to fly into Haiti at the same time of the President of VFH or arrive on your own at a time that is more convenient. Arrangements will be made to pick you up from the Airport Toussaint Louverture in Port-Au-Prince.
ACTIVITIES
In the morning you will join the group at the school to share your skills with our students or members of the community.
In the afternoon you will visit the surrounding villages around Pont-Sondé.
HOUSING
You will leave in the same house as staff members. The house is modern, modest with indoor shower and toilet. It has a modern kitchen with a refrigerator and a stove.
MEALS
You will be served two meals a day, breakfast and dinner.
COME TO HAITI AND BE INSPIRED
Traveling to Haiti as a volunteer will be a new life experience. You will find working with our students inspiring. You will have a great impact on the children and in exchange, you will be inspired. You will meet people who friendly. They may be different than you but yet so similar. You will have the experience of a lifetime learning a new culture and discovering a fascinating country with great history. The resilience of the Haitian people is remarkable and will rub on you. You will be amazed and enchanted to have had this experience.